News & Press

John Paul Russo from Italian Americana: Cultural and Historical Review, Volume XXXV Number 1 Winter 2017:
"This is her most accomplished work in a highly productive career barely at its mid-point.... From her first works, Raptosh has always been a risk-taker, on subject matter as on tone and texture.... as for the key theme of the book, in and through her twirling of ideas, emotions, and words, her "human directional" is poetry, a magister vitae, a rule of life whose rewards are personal rapture and communal harmony. If her final goal is to celebrate community, it is one achieved by her appreciation of difference and her capacity to set her subjects on an equal footing."


Raptosh Featured in Go Idaho, November, 2017
https://goidaho.com/diane-raptosh/


Reviewer Joey Nicoletti from Voices in Italian Americana, Volume 28 Number 1, 2017, writes the following about Human Directional:
"Raptosh's sense of urgency makes her readers care about what's at stake in each poem and why it should, or could matter to them at least as much as to her speakers, if not more so. Their concerns go beyond the self in interesting and immediate ways, and the reader is wiser for having pulled up a chair and listened. . . . [Raptosh] has the control of a skilled conductor, steering her trains of thought through sharp turns of phrase and multi-layered emotional terrain."

Sign Twirler Crunches Some Numbers.
Raptosh reads "Sign Twirler Crunches Some Numbers" from Human Directional at the Boise Library.

Human Directional Reviewed in the Idaho Statesman:
http://www.idahostatesman.com/entertainment/books/article111223382.html


Raptosh's poem featured in the Poets.org/National Parks Services "Imagine Your Parks" Project
https://www.poets.org/poetsorg/poem/american-zebra-praise-song-hagerman-fossil-beds-national-monument


Raptosh Interviewed about Human Directional on The Poetry Show, Radio Boise, June, 2016:
Diane Raptosh interview on The Poetry Show, Radio Boise, June 2016 Interview

Raptosh to publish Human Directional, a new book of poems, in fall 2016. Read about it here:
http://www.collegeofidaho.edu/blog/news/2015/06/18/c-i-s-raptosh-release-new-poetry-book

Listen to American Amnesiac as an audio book:
https://www.dropbox.com/s/i4yfyz8l3d0q3l2/American%20Amnesiac.mp3?dl=0

Raptosh gives TEDx Talk: "Poetry, Democracy, and the Hope of Sounds"
https://www.youtube.com/watch?v=ZGAokimTzo0


Raptosh discusses American Amnesiac with Ohio inmates (October 21, 2014):
https://www.youtube.com/watch?v=hi81BfHqopk

Interview in Go Magazine, LaGrande, OR:
http://www.gonortheastoregon.com/2014/10/15/roundhouse-writers-share-their-trade-secrets/

Raptosh Featured in Roundhouse Reading Series, Eastern Oregon University, Wed., October 15, 7:00 PM
http://www.gonortheastoregon.com/2014/10/08/roundhouse-reading-series-unfolds-oct-15/

Is Poetry Dead? From the New York Times, July 28, 2014

Never.

"I just stood there with a mike like a lounge lizard, reading poems and leading haiku exercises," say I on reading poetry in a moving school bus.
View the NY Ttimes article here

"Raptosh Quoted in Front-Page New York Times Story": KIVI TV
http://kivitv.video.jrn.com/Idaho-poet-quoted-in-New-York-Times-26463244

"Is Poetry Dead?" Raptosh answers.



Reviews
Review of American Amnesiac from Canada:
http://artsites.uottawa.ca/margento/2014/10/24/diane-raptosh-american-amnesiac-the-nonself-as-a-thousand-localities/

May 26, 2014
Monday's Muse piece on Idaho Writer in Residence Position and more
http://writingwithoutpaper.blogspot.com/2014/05/monday-muse-idahos-writer-in-residence.html

April 18, 2014
Review of American Amnesiac in the Hartskill Review:
http://hartskillreview.wordpress.com/2014/04/18/review-of-american-amnesiac-by-diane-raptosh/

April 11, 2014
Review of American Amnesiac in Rain Taxi:
http://www.raintaxi.com/american-amnesiac/

February 3, 2014
Review of American Amnesiac in Newpages.com:
http://www.newpages.com/bookreviews/2014-02-03/#American-Amnesiac-Diane-Raptosh

December 6th, 2013
Read reviews of American Amnesiac in Goodreads:
https://www.goodreads.com/book/show/16057080-american-amnesiac

September 28, 2013
Weave Magazine published Marc J. Sheehan's review of American Amnesiac
http://www.weavemagazine.net/2013/09/a-possible-decency-review-of-diane.html
---
What's New

March 31, 2014
Idaho Commission on the Arts Piece about Writer-in-Residence position
http://www.arts.idaho.gov/writers/current.aspx

March 12, 2014
Extended interview and Three New Poems from Human Directional in Educe Journal, Issue 5:
http://educejournal.com/

January 26, 2014
Story in the Idaho Free Press
http://www.idahopress.com/members/writer-diane-raptosh-reaches-out/article_e73484a2-8633-11e3-a614-0019bb2963f4.html

January 8th, 2014
Puchcart Prize nominations from Educe Journal for two poems from her new manuscript, Human Directional
http://educejournal.com/2013/12/05/pushcart-nominations-2/

December 28, 2013:
"This from the Evanston, IL, Public Library"
http://evanstonpubliclibrary.wordpress.com/tag/diane-raptosh/

September 17, 2013
The National Book Foundation released the Long list for the 2013 National Book Award in Poetry, and American Amnesiac was one of the books included.
http://www.thedailybeast.com/articles/2013/09/17/exclusive-the-national-book-awards-longlist-for-poetry.html

And this from the Boise Weekly
http://www.boiseweekly.com/Cobweb/archives/2013/09/17/diane-raptosh-named-to-national-book-award-long-list-for-poetry
Story about the nomination and her other awards from The College of Idaho
http://www.collegeofidaho.edu/ourstories/diane-raptosh
"The Next Big Thing: blog, a writers' bloghop
http://dianeraptosh.blogspot.com/

The front page of The Newer York features excerpts from American Amnesiac:
http://www.theneweryork.com/change-excerpt-american-amnesiac/
---
Interviews

Interview in Roar Magazine
http://moonspitpoetry.com/2014/07/16/languages-tag-along-an-interview-with-poet-diane-raptost/

Interview on the Poetry Show. Thank you to Daphne Stanford
Poetry Show Interview with Diane Raptosh 031614.mp3

Interview in CutBank Literary Magazine. Thank you to Allison Linville
http://www.cutbankonline.org/2014/01/07/interviews-diane-raptosh/

Interview on Poets Quarterly. Thank you to Nin Andrews
http://www.poetsquarterly.com/2013/10/interview-with-diane-raptosh.html

Interview from "The Next Big Thing," blog, a writers' bloghop
http://dianeraptosh.blogspot.com/
May 18, 2013
The Idaho Statesman story on Raptosh being named Idaho Writer-in-Residence (2013-2016) and Boise Poet Laureate (2013)
http://www.idahostatesman.com/2013/05/18/2578242/thevoiceboiseof.html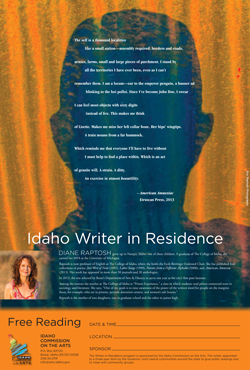 January, 2013
Raptosh named first ever Boise Poet Laureate
http://www.boise150.org/projects/city/boise-poet-laureate/
---
New Poems

Hear Diane read from American Amnesiac
http://occupypoetry.org/diane-raptosh/

"Numbers Ode" from manuscript-in-progress Human Directional
published in Blast Furnace, April 2013
http://www.blastfurnacepress.com/2013/04/blast-furnace-volume-3-issue-1.html

Poem from Human Directional published in The Meadowland Review, Summer 2013
http://www.themeadowlandreview.com/